Zoo Life – January news!🦈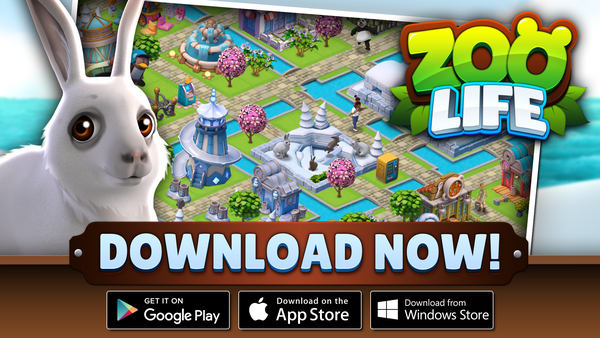 Hi there!
Welcome to our Zoo Life update, where we will share some updates with you!
Version 1.7.0
Game version 1.7.0 is in the process of releasing and will contain a lot of cool new stuff such as:
New XP and Popularity Levels! Level up to level 150 now!🌟
New content: 8 new animals, 25 facilities and 6 decorations!🦈
More different zoo visitors that walk through your zoo!👧
You can now collect a Daily Bonus reward!📅
New mini-event: Munching Madness!🥦
2 New exclusive bundles are coming up soon!🎎
There is now a confirmation pop-up when deleting decorations🌴
Check the store immediately to see if this update is already available to your device:
CHECK NOW!
New content
Especially for you high level players, we added new animals to the shop! Add the Hammerhead Shark, Giant Anteater, Anaconda and 5 other animals to your zoo collection!
Expand your zoo's entertainment with 25 brand new Facilities such as the Pasta Cafe, Amusement Ride, Snake House and more!
Take a close look and enjoy the new visitors that are walking through your zoo such as the Parrot Mascot, Granny or the Selfie Girl!
Daily Bonus
You can now collect free rewards daily from the Daily Bonus! And that's not all, you can also earn extra and special rewards if you play for a long time!
New mini-event
Enjoy the launch of our new mini-event Munching Madness next week! During this event, the production of your food goes twice as fast! First up is the Vegetables variant! Check your event calendar to see when the Meat or Fish versions are starting!
Coming up
To celebrate the Lunar New year that is coming up in a few weeks, we will have an exclusive Oriental themed bundle for sale starting from January 19th! Don't forget to update your game to 1.7.0 to receive this offer!
And that is not all…! This newsletter contains exclusive inside information of what the team is currently working on, which is… Zoo Life's first game event! 
 More information will be revealed later… Thank you all for your support, and we hope to see you back in Zoo Life soon!